X-Wing
Gargantuan starfighter
Init +7; Senses Perception +6
---
Defense Ref 18 (flat-footed 12), Fort 26; +7 armor, Vehicular Combat
hp 120; DR 10; SR 15, Threshold 46
---
Speed fly 16 squares (max. velocity 1,050 km/h), fly 4 (starship scale)
Ranged laser cannons +7 (see below) or
Ranged photon torpedoes +7 (see below)
Fighting Space 4x4 or 1 square (starship scale); Cover total (pilot), +5 (astromech droid)
Base Atk +2; Grap +33
Atk Options autofire (laser cannon), fire-link (proton torpedoes)
---
Abilities Str 42, Dex 22, Con -, Int 16
Skills Initiative +7, Mechanics +6 (+13*), Perception +6 (+3*), Pilot +7, Use Computers +6 (+13*)
---
Crew 1 plus atromech droid (skilled); Passengers none
Cargo 110 kg; Consumables 1 week; Carried Craft none
Payload 6 proton torpedoes
Hyperdrive x1, 10-jump memory (astromech droid)
Availability Military; Cost 150,000 (65,000 used)
*If the ship has an astromech droid, use these skill modifiers instead.
Laser cannons (pilot)
Atk +7 (+2 autofire), Dmg 6d10x2

---

Proton Torpedoes (pilot)
Atk +7, Dmg 9d10x2, 4-square splash
Standard Cargo Glow rod, breath mask, medical kit, field kit, synthetic rope (45 m), mesh tape, tool kit, power generator, power recharger.
---
Often hailed as the best Starfighter ever made, the T-65B X-Wing was developed in secret when the Incom Corporation began to support the Rebel Alliance. With impressive firepower for a ship of its size, sturdy shields, and even a hyperdrive, the X-Wing is as agile as an Imperial TIE Fighter, and far more versatile. It is equipped with a topside astromech bay, letting the Pilot plug in an R2 Series Astromech Droid to handle targeting, damage control, and hyperspace calculation.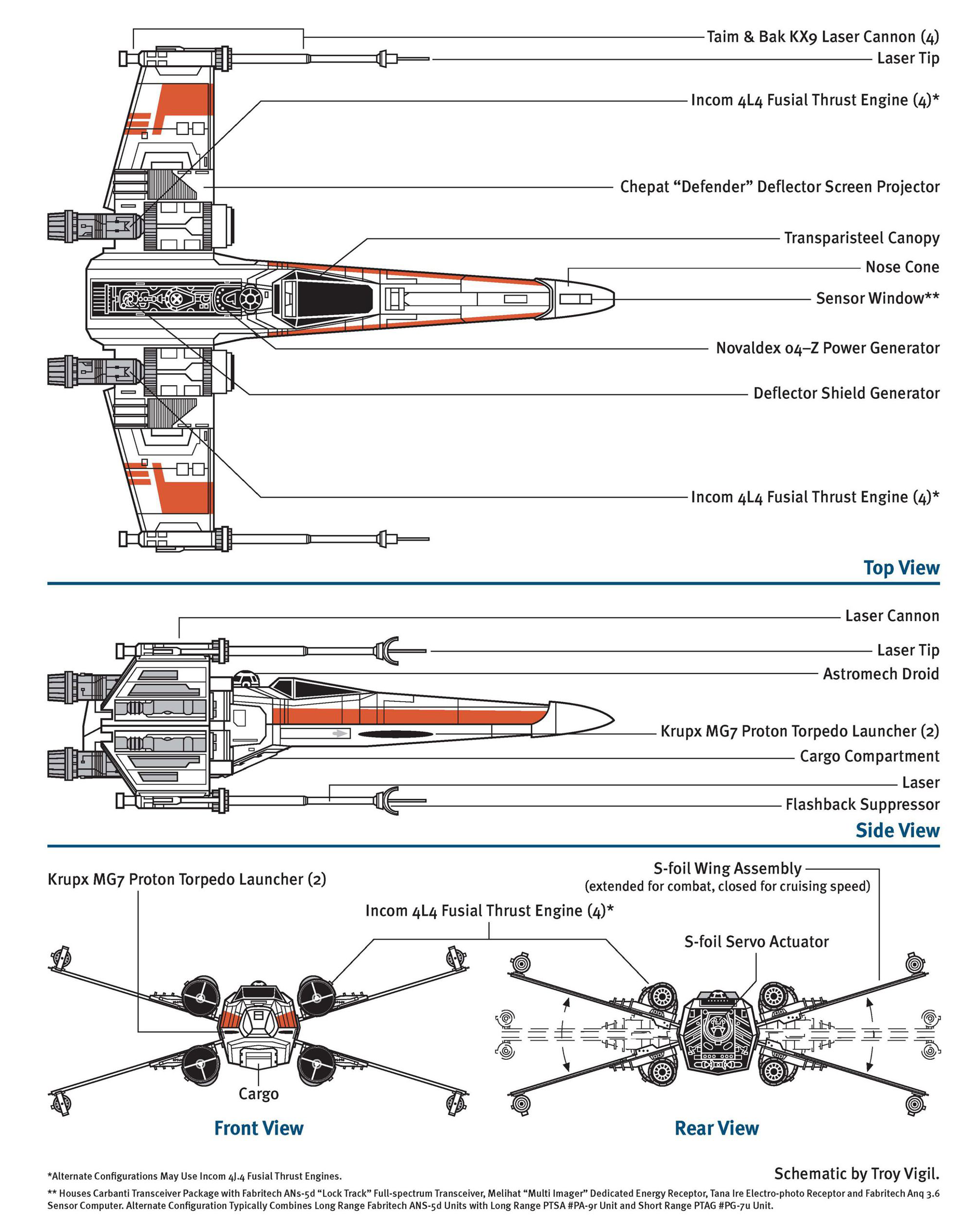 page revision: 14, last edited: 11 Jan 2018 07:55